Instruction to students: This is an individual assignment.
Weight: 20% of the total assessments
Total Marks 50
Word limit 1000
Submission Guideline: All work must be submitted on Moodle by the due date along with a completed Assignment Cover Page.
Task: BN202 Network Requirement Analysis And Plan Assignment

Purpose of the assessment:
Main objective of this assignment is to enable student to understand networking devices, gather requirements for a given business case study and plan a network design. After successful completion of this assignment, students should be able to:
a) Explain the current and future state of the internetworking infrastructure and its applications.
b) Apply a process to support the administration and management of internet working.
Description
Business case study: Network design proposal for a HiTech Telecommunications company: HiTech Telecommunications1 is a reputed Telecommunications company that provides different types of Telecommunications services, including service onsite. The company has three (3) major branches in Australia in Canberra, Melbourne, and Brisbane with  Headquarters (HQ) in Melbourne to capture large number of customers in the area. In addition to providing Telecommunications services in-store, they also have web-based ordering facility for national and international customers. The orders can be paid for online by using major credit cards.
HiTech Telecommunications gets a significant portion of their orders through their on-line ordering facilities. Web-based orders (online) get stored in their central file server(s), which is located in Melbourne, but should be accessible from any branch using appropriate networking technologies. The reliability of their file and web servers is of high importance. HiTech Telecommunications also wants to make sure that the network downtime is very limited. Furthermore, the servers need to be protected from malicious computer attacks and unauthorized access. Facility to carry out audit checks needs to be provided as well to so as to keep track of the exact activity along with the date and time at which an employee of HiTech Telecommunications carried out a computer system based activity. The activity could include doing task(s) such as installation of new software, changes in Webpage etc.
Write a report based on the above network requirements, use the following structure to organise your report; and demonstrate switch and router configuration in  laboratory class.
ORDER THIS BN202 Network Requirement Analysis And Plan Assignment NOW And Get Instant Discount

Report Contents

 Project Scope
 Project requirements
 Network Design strategy
 Network Topology Diagram
– Switch configuration (VLAN, Trunking)
– Router configuration (VLAN sub interface, Access lists)
– DHCP configuration (Scope creation with screen shot)
– Access point, server configuration guidelines.
 Detailed Network Design in Netsim (You should not use packet tracer) which includes
– All switches
– All routers
– VLAN
– VTP
– All PCs
Marking Criteria: BN202 Network Requirement Analysis And Plan Assignment-Melbourne Institute of Technology Australia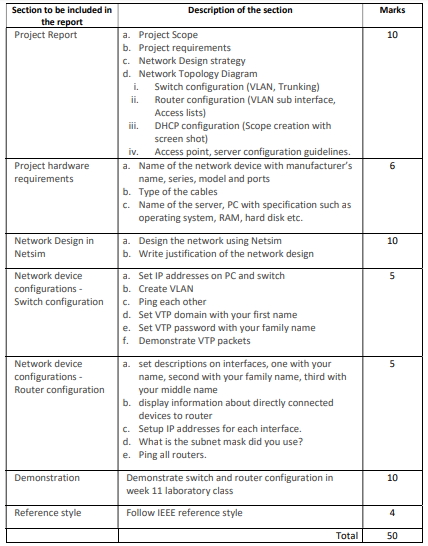 Marking Rubric: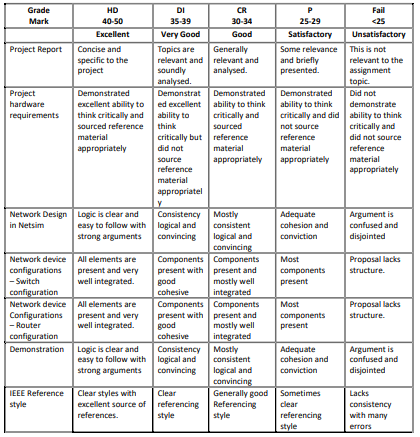 ORDER THIS BN202 Network Requirement Analysis And Plan Assignment NOW And Get Instant Discount

Get MN503 Network Requirement Analysis And Plan Assignment written by experts.