Completing assignments for academics could become problematic. You must navigate the numerous requirements and tedious tasks of being a student to complete your degree effectively.
If you're a college student and don't have enough time to complete a project, you may consider asking for help. Since writing assignments are an inevitable part of a college education, asking for assignment help when needed is the best course of action. Assignmentfirm's writers assisted with numerous college assignments.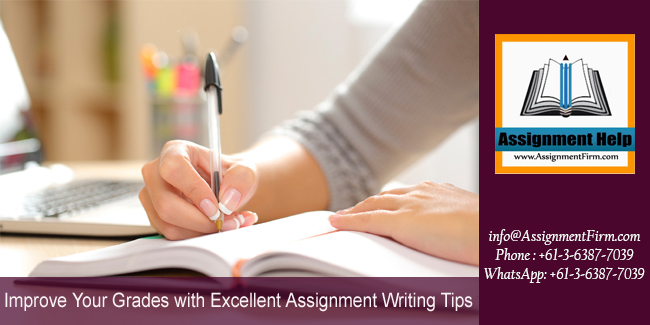 Experts say that with enough time and the right direction, it is feasible to compose outstanding assignments. Thus, the following assignment writing tips might be helpful to you if you're looking for advice on producing a quality assignment.
1) Take notes and write
A reading list will be provided to you when you enrol in a course. You should become familiar with it immediately since the texts your lecturers will select from this list will directly assist you in completing your assignments and chores. Examining the items on your list will provide you with essential background information on the subjects you need to write about. It will simplify your life when you have to turn in an assignment.
You should schedule the writing of your tasks after conducting your research. Respect your timetable. Additionally, confirm your deadline once more to avoid feeling overburdened when you learn it's approaching soon. To guarantee that you are always on top of your work, divide your time and duties into smaller, more manageable portions. Create a timetable with incremental due dates. Reminding yourself that a task is done will help you stay motivated.
2) Analyze the question.
Make sure you grasp your project before beginning, as creating an essay that is incoherent or contains irrelevant information will not turn out well. It's vital to be careful of what you're saying and doing constantly. You can review the instructions to ensure you know what's required. In addition, you must decide how long the essay should be and how you will write it.
Making notes is yet another crucial component of writing. Gathering different materials and resources related to your topic is necessary before you begin. Additionally, you want to draft an overview that will direct you. Examine various research resources, then note the most essential details to incorporate into your writing. When you have all of the knowledge you require, writing will become easier.
(3) Detailed investigation
In addition to giving you deadlines and directions, your professor may also suggest specific resources to you. For example, you must look at your professor's rubric to determine how they will score your assignment. This graphic tells you precisely what needs to be done. Additionally, you will learn about the learning outcomes and the goals of the tasks. You may also receive reading lists, lecture notes, discussion boards, and model assignments as additional resources.
4) Proper arrangement
Determining the goals and organization of your written work is the next task you must complete. Here's where you'll figure out what makes an assignment well-written. It is your goal to make your work appear noteworthy to the reader. One way to achieve this is to provide more theoretical details and facts in your essay. It's also critical to maintain coherence. Every paragraph needs to be connected to the others.
It will keep the reader engaged with the information being provided. To do this, review your assignment outline and look for key points that will enable you to weave the paragraphs together seamlessly. Here's a quick tip: use words or phrases that will grab readers' attention and reinforce the meaning of the written task.
5) Review or proofreading
The most important thing to do when writing your assignment is to review your article. You can use it to identify even the most minor errors and ensure your documents are error-free. Simple blunders or mistakes in judgment will not improve your understanding or score.
Don't just give your teacher the assignment when you finish writing it. Go over it with a third pair of eyes. Say the text aloud. Verify your writing for mistakes, punctuation, and other grammatical errors.
No matter how well-written and diligently you worked on your homework, it won't be able to make a positive impression if the teacher finds numerous errors.
Thus, exercise patience and proofread your project until you are sure there are no more errors if you don't want your efforts to be in vain.
Write More Effective Assignments Now!
We do not doubt you will ace your next task if you have made it this far. You may create an assignment you're happy with by employing our inexpensive assignment assistance service and all the advice we've provided.
We can handle any difficulty level of the task if you only ask us to "do my assignment." Remember that writing assignment doesn't have to be a terrible ordeal. Producing a top-notch assignment should be easy if you only do thorough research on the topic and make a plan beforehand.
However, academic work includes assignments, thesis, and dissertations, all of which apprentices must finish on time. Every one of these has an appropriate format that students need to adhere to. Keeping this in mind, the professional advice listed above is something that every beginner should be aware of.