Sid Swan commenced a retail business on 1 January 2017 selling lounge suites to customers. He sells two types of lounge suites – Grand Suite and Standard Suite. Delivery of the lounge suites sold on credit is arranged by customers whereas, delivery of lounge suites on cash sales is provided by Swan using a vehicle bought on 15 January 2017.
Swan has kept single entry books for the past four months and he now acknowledges the need for double entry accounting records.
In the past, small expenses were paid directly by Swan, and he did not keep a record. He has been advised that a Petty Cash Advance be established and a Petty Cash Book maintained.
The trial balance below shows the summary of transactions in the past four months, now carried forward to the month of May 2017.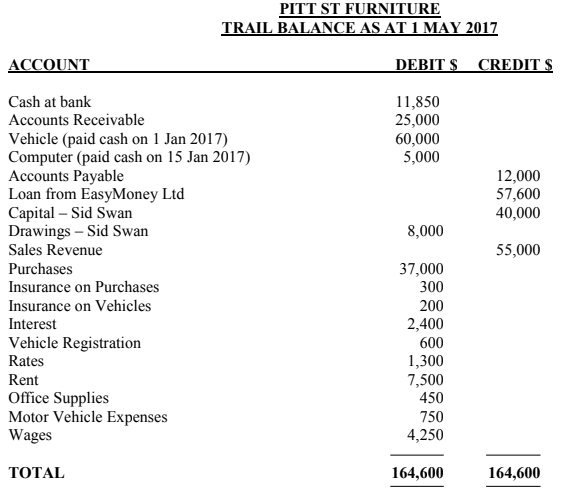 Information relating to the opening trial balance is as follows:
1. The Purchases and Sales history for the past four months is as follows:
2. Periodic Inventory System is adopted by Swan as it is easy and inexpensive to set up and there is no need to record the movement of inventory formally. FIFO method is used to assign the cost of ending inventory and cost of sales.
3. Accounts Receivable as at 1 May 2017 consisted of:
Sun Hotel      $25,000
4. Accounts Payable as at 1 May 2017 consisted of:
Joels Furniture Ltd       $12,000

ADDITIONAL INFORMATION AS AT 31 May 2017
1. Rent of $1,500 was paid in advance for the month of June 2017.
2. Vehicle is to be depreciated on a reducing balance at 25% per annum.
3. Computer is to be depreciated on a straight-line basis. It has a useful life of three years and a scrap value of $500.
4. Loan from EasyMoney Ltd for the amount of $60,000 was effective from 1 January 2017.
Interest rate of 12% per annum applies and payable on the last day of each month.
5. The stock take record as at 31 May 2017 shows 0 Grand Suites and 6 Standard Suites on hand.
6. Each student is provide a statement about the progress of the group work via the drop box in two weeks after the commencement of the practice set and again at the conclusion of the group exercise.
STUDENTS ARE REQUIRED TO USE MS EXCEL SPREADSHEETS OR MS WORD TO PREPARE THE FOLLOWING:
1. General and Special Journals to record:
Opening balances, all transactions for the month of May 2017, all balance day adjustments and closing entries.
2. Post all Journals to General Ledgers and Subsidiary Ledgers.
3. Bank Reconciliation Statement as at 31 May 2017.
4. Unadjusted Trial Balance, Adjusted Trial Balance, and Post Closing Trial Balance as at 31 May 2017.
5. Statement of Comprehensive Income for the five months ended 31 May 2017 and Statement of Financial Position as at 31 May 2017.
Get NIT6130 Introduction to Research Assignment Help By Expert Writers.