Introduction:
The "Knowledge Audit" is an organizational tool to recognize on which point the organization is standing at present in the perspective of managerial area and assets of information. Knowledge Audit is also known as the "Information Audit". Information and knowledge management is very important and effective for every developing and developed organization (Wallace and Vodanovich, 2007). Knowledge is also considered as a crucial resource through which the organization can be rooted in the contemporary market.
In this study an overview is going to be published about a renowned organization, Nestle. It normally deals in health, wellness and nutritious products. It is a world-wide brand.
About Nestle:
Nestle is categorized as a food processing company. Headquarter of Nestle is at Vevey in Switzerland (www.nestle.com,2014). It serves its products in eighty three countries across the globe including developing and developed countries. Nestle has installed four hundred and sixty one factories in those countries including United Kingdom.
Henri Nestle is celebrated as the respected founder of Nestle (www.nestle.com, 2014). Charles Page and George Page were also with him. Henri Nestle, the German pharmacist, in 1866 established a condensed milk factory in Cham of Switzerland for the first time in Europe (www.nestle.com, 2014). That factory had become the "Anglo-Swiss Condensed Milk Company" later. It has been improved and modernized as today's 'Nestle'.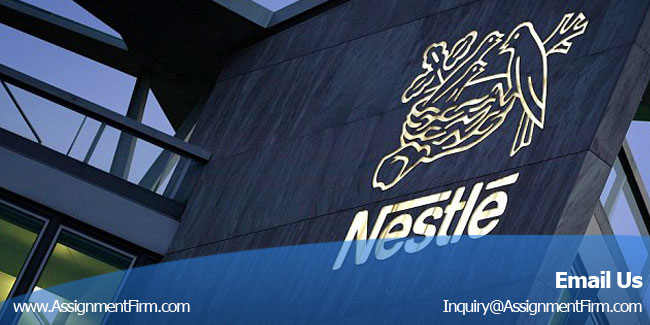 Products of Nestle:
Nestle delivers a lot of products. Those products have a worldwide appeal and reputation (www.nestle.com,2014). Among all those, some are baby foods, water, coffee, yogurt, cereals, ice cream, pet care, confectionery etc. Nestle is very common name in United Kingdom. It is one of the most popular brands in Britain. In UK per year more than one billion 'Kit-Kat' are created to market.
Headcount and Key-people of Nestle:
Nestle has employed 330000 people in the organization in the whole world across their network (www.nestle.com, 2014).Only in the United Kingdom, Nestle has more than seven thousand employees and workers across all the nineteen sites. Peter Brabeck-Letmathe is the present chairman of Nestle. Chief Execute Officer is Paul Baulcke and Wan Ling Martello is the C.F.O (www.nestle.com, 2014).
Financial position of Nestle:
Nestle exports more than three hundred million pound worth of food commodities per annum to more than fifty nations of the globe. It is one of the largest exporters of Ireland and United Kingdom. Nestle has also shown to invest in the well beings of stake holders and in the sector of corporate social responsibilities. In ten years Nestle has been seen to invest near about seventy million pound in those sectors, especially for related areas of Cocoa (nestle.com, 2014).
Basic concept of Knowledge Audit:
Knowledge Audit is considered as the first staircase to Knowledge Management (Turner, 2009). A proper and exact knowledge audit generates truthful quantification, identification, assessment and measurement of all the knowledge and information adjacent to the concerned organization. It is a procedure to locate from where information related to the commerce of the organization is generating, which areas of the organization are being influenced by the organization and in which sectors the information is being saved to show results.
ORDER Knowledge Audit Assignment And Get Instant Discount


Knowledge Audit is not only something related to the materialistic products of any organization, but also it has connection with external and internal culture of the concerned organization (Haas, 2007). The supply chain management, applied technologies, stakeholders, employees etc. are influenced by the sharing of the knowledge and they also take part in the knowledge sharing. Use of knowledge audit has multi-dimensional opinion. Verifying the documents, people, objectives and strategies the processing of knowledge audit can be taken place.
Aims to apply Knowledge Audit:
Knowledge Audit or Information Audit is employed by the organization for different causes on different issues. At first, a company installs knowledge audit to locate the knowledge resources of the company. Need of information to enhance business is a crucial reason of Knowledge Audit. These two are considered as the key-causes. Beside those, many reasons exist there. Information resources also bring some benefits for the companies. Knowledge also enables a company to be in safer position in the strategic competitive market. Synchronization between strategy and information technologies takes place due to proper audit of knowledge. Process and courses of the knowledge in the existing network of a company are located through the information audit. Information Resource Management or IRM of an organization generates knowledge audit to promote an integrated policy of knowledge holding and knowledge sharing. Knowledge Audit is importantly concerned about all the knowledge about legislations, standards, guidelines and policies (Beresford, 2009).
How to collect data for the Knowledge Audit procedure:
Knowledge Audit is basically works on relevant data (Hodgson, 2009). Whatever the source is – primary or secondary – every source and every accumulated relevant data is dealt in any case as a truly important one. There are many methods and procedures to collect data. Through online questionnaires and surveys data are collected. Group Discussions are followed also to gather relevant data. Face-to-face meetings and interviews are important method to collect data. Focal point of Knowledge Management aims at workers, managers, clients, stakeholders and consumers (Currie and Kerrin, 2010). Workforce and commercial procedure of the companies are analyzed to understand the out coming knowledge and also to understand the inputting knowledge of the companies. Relevant contents of an organization are big factors for that organization. Contents are the holder and bearer of knowledge of a company. Proper study and analyze of those contents give exact idea often about the knowledge sharing and applying of knowledge in that concerned company. Information Technology is nowadays really a key factor in business. IT saves every type of data which make touches with it time to time. So, proper using of the Information Technology plays a pivotal role in Knowledge Audit.
The knowledge – Nestle needs to improve:
Culture of Nestle needs to be discussed before the issues of acquiring knowledge. Nestle holds a series of corporate principles to take the path along which the organization and the employees of the concerned organization move forward. Nestle has applied those principles to escort the beliefs of the stakeholders and the buyers. The concerned company has installed those principles and relevant strategies at the basis of related issues of customers, labor and human rights, staffs, suppliers and the atmosphere or natural environment. Now, managerial sectors of many developing organizations are working with and for those five factors. Nestle has to gather more data and implement those data to be in top.
ORDER Knowledge Audit Assignment And Get Instant Discount


It is major factor that every nation has different and unique consumers (Bontis and Serenko, 2009). Their food habit, taste and nutritious demands for health are totally mismatched. Therefore, it is Nestlé's obvious duty to properly analyze the food habit of the country where they are going to export food products. They can do it through the knowledge audit. Though in the whole world labor practices and human rights are considered more or less in same way, different constitutions of different countries hold some uniqueness in this matter. Nestle needs to go through the whole rule and regulation and recent related issues. Otherwise, employees' dissatisfaction or violating human rights may take place and it is quite enough to destroy a network in country.
Employees are bigger issues in a business(Vaiman and Vance, 2008). Though Nestle has employed many employees, they regularly are to be undergone of knowledge processing. Socio-political scenario of a developing country is a subject of quick change in recent years. So, the employees who are the inhabitants of the country can be easily influenced by the changing scenario. Psychological motivation of those employees can be changed and it can harm the workforce of Nestle. Therefore, managerial sector of Nestle has to audit the present condition of the related country regularly with the help of sociologists and anthropologists. Psychological condition of the employees of Nestle is also a key matter of knowledge oriented issues. Every group of employees at every land should be nurtured on this basis and this should be recorded as a matter of crucial information, because psychological conditions of the employees give them motivation and satisfaction.
Suppliers and stake holders play crucial role in any business (De Pablos and Lytras, 2008). The information about supplying materials, cost of those materials, quality of those, expenses for supplying and sincerity of the suppliers are to be considered as the subjects of knowledge. All these need to be evaluated through the knowledge audit system. Issues of stakeholders are to be recorded regularly, because information about customers and stakeholders give the exact full picture of business in a specific market.
Green nature and raw materials are treated as some of the most important factors. Nature is a sensitive issue everywhere in this era of global warming (Whelan et al. 2010). If Nestle harms the nature anyhow or hurt natural process of environment collecting raw materials, government and other welfare organizations will stand against them and competing companies can capital this situation. So, Nestle has to gather and cultivate proper knowledge about natural environment with the help of experts. Various lands face various environmental issues. So, depending on the relevant issues Nestle needs to deal the matter and to do so they have to accumulate and examine all the relevant data. Eco-friendly business and eco-friendly raw materials also help the companies to generate good impact in market. Beside all those, changing market, changing taste, changing environment and changing marketing strategies worldwide are to be evaluated by Nestle through the Knowledge Audit system.
Impediment of Knowledge:
Sharing of information and Knowledge Audit are considered often as the backbone of the strategy making (Chen and Huang, 2007). All the commercial organizations make effort level best to implement the knowledge audit and information sharing. But, some problems lie under the processing. The problems are related to collect information and to employ the knowledge into the workforce.
Public and company need to run together to acquire data and to employ those data in business (Zheng et al. 2010). It is also relevant for Nestle. Many countries hold the branches and factories of Nestle. The managerial sectors have to collect data from the consumers to root their business deeply. But, it is quite impossible to bring all the Nestle users under one common questionnaire. If the concerned organization intends to go through the online survey, it is also problematic that very consumer of every country will not be tech-savvy necessarily. So, collecting proper information and analyzing those face a wall here. Nestle displays all their organization oriented knowledge on the online portal. They as usual expect people to contact and comment on them. They are to evaluate those data to catch the nerve of the consumers. But, availability of information technology and effectiveness of that are not similar everywhere across their network.
Nestle has employed many managers and directors in their all branches of the world. They put their efficiency, skill, merit, sincerity and labor for Nestle. But, it is always possible that some of them are working with paradoxes in minds. The contradictions obviously are great causes to resist flow of knowledge in the network (Scott and Laws, 2006). Through the surveying and questionnaire it is not possible always that every worker or leader or manager or director is ever ready to contribute the organization with cent percent honest and true replying. Knowledge Audit and information management are done by human efforts. Technology can arrange the knowledge in proper order, but human is to audit them. There are so many chances of human errors. Irrespective to the organization's goals the audit-doing-people may put their own ideology while analyzing information. This is also a hazard for Knowledge Audit.
ORDER Knowledge Audit Assignment And Get Instant Discount


After the analyzing of the accumulated knowledge, implementation of those analyzed information is also a subject to potentiality of the concerned organization (Cabrera et al. 2009). Many men many minds and many nations contain many culture. So, analyzed knowledge works differently in various countries. The top most management of Nestle faces problems and dilemma while to employ the new strategies in different branches. Country wise strategy making and branch wise knowledge auditing is really very hectic and costly works of Nestle. Workforce can fall shorter here.
The procedure to share and organize knowledge well:
Sharing and organizing knowledge are the processes by which relevant knowledge are switched among all the related people and works (Duh et al. 2009). Organizing the relevant info is often treated as one of the best assets the concerned organization has. It acts an important role in an international business. There are generally three kinds of knowledge sharing e.g. Explicit Knowledge Sharing, Tacit Knowledge Sharing and Embedded Knowledge Sharing.
Knowledge sharing takes place explicitly while it is necessary(Ruppel and Harrington,2006). In the concerned organization namely 'Nestle', there are five criteria through which sharing of knowledge takes position. Those are articulation, awareness, access, guidance and completeness. Sometimes knowledge is shared through various kinds of socialization like informal networks, unmonitored argument of people or non-constructed practices (Bellman et al. 2009). These kinds of knowledge sharing have so many draw backs. Nestle often grants knowledge sharing through their reputed food products and TV commercials. Nestle needs to emphasize more organizational planning, training at managerial sectors and transfusion of knowledge. These are the formal and familiar ways to share related information.
Advertisements on TV, newspapers, packaging of products and free gifts with many best sold products are considered as the crucial paths to attain knowledge sharing among all the consumers and stakeholders (Sarkar and Steinfield, 2009). Commercial advertisements and packaging can display all the relevant knowledge and information which Nestle wants to share. Free and attractive gifts help customers to be attracted. Attracted and attached people are ready to be influenced according to the business policy. IT machineries are very common to facilitate knowledge sharing. Online portal and Information Technology help Nestle a common platform to share and organize knowledge.
Nestle should to be more composed to organize the knowledge (Businesscasestudies.co.uk, 2014). They should give the responsibility to the respected directors and leaders to evaluate all the relevant data in various sectors and countries. In their supply chain, there are farmers, cooperatives, manufacturers, retailers and consumers. They all should be suggested to maintain one common process and portal to maintain business, so that anyone of the management can pick data anytime. The cocoa farmers and the cocoa experts need to go together to avoid any communication gap. Proper knowledge sharing among them will prosper Nestlé's business and CSR. Through the Corporate Social Responsibilities, Nestle can share their knowledge. Proper handling of stakeholders will help them to organize all the knowledge.
Knowledge Resources – currently in use:
Nestle runs their business on the basis of "Global Business Excellence" or "GLOBE". It is based on three basic principles such as better practice, Standardization of Management and Knowledge and Common technology and IT (Businesscasestudies.co.uk, 2014). Nestle has been located to use "Enterprise Resource Planning" or ERP. It is taken as the solution of any company's troubles. This planning procedure provides automation momentum to many commercial practices. It also incorporates those practices. ERP at Nestle puts efforts to put all functions and departments together under one common IT system. This system efficiently subscribes coordination and standardization for information and knowledge systems of Nestle. Like other developed organizations, Nestle also grants knowledge and information as an important and crucial resource to apply in the business. Beside this, the Corporate Social Responsibilities seek more attention to pay in the matter of knowledge.
Since the first of twenty first century, Nestle has signed two hundred million dollar agreement with SAP to run their ERP. Nestle also allows eighty million dollar for the consultation, up gradation and maintenance of SAP. This system keeps every record of orders of customers. So, overstocking has decreased. Due to SAP, Nestle controls buying of every material. All relevant data is shared among all the deputies through SAP.
Nestle employs extranet, intranet and web links worldwide to expand the perimeter of knowledge. E-Commerce is one of the best knowledge resources. On the basis of knowledge sharing Nestle has deployed six-SAP components. Those are purchase, economy, sale and giving out, payable description, receivable account and superior setting up and optimization. Best Practice library and internet strategy of Nestle are crucial resources. Nestle uses Microsoft platform to gather and leverage knowledge. They have improved NIRF or Nestle Internet Resource Framework to do so(Businesscasestudies.co.uk,2014).
The current and the future benchmark for knowledge use:
Business standard sets high on the basis of well managing knowledge. Nestle till date has been capable to build such library from where anyone related to Nestlé's business can optimize needed data and knowledge. With the changing course of time the whole world takes knowledge and information seriously. There are rules and regulations related to use of knowledge everywhere. AGIMO or Australian Government Information Management Office is a brunch of Australian government. It deals with the legal matters of knowledge and information. Nestle is witnessed to keep co-ordination with AGIMO (Finance.gov.au, 2014).
Since 2004 AGIMO has taken some activities of NOIE or National Office for the Information Economy (Finance.gov.au, 2014). It supervises the endorsement and synchronization of communications and information and tools to reveal organizational knowledge. Finance Department of Australian Government has also link-up with it. Information economy and digital economy are the subjects adjacent to it. FOI or Freedom of Information is a big issue here. In Australia, Nestle has to go through all the rules, regulations and supervisions of AGIMO (Finance.gov.au, 2014).
Knowledge is already treated as a big strategy and resource in the competitive corporal world. A business can prosper with the excellent use of information at proper area (Sugumaran, 2008). In future, supposedly knowledge will be the largest issue of competition. Present trend in the concerned case of Nestle has shown the tendency to nurture knowledge. Updated software is available to make best uses of knowledge and information. Many software vendors are offering latest applications to do so. It is also a proof that Knowledge Audit is going to be a crucial raw material in every company.
ORDER Knowledge Audit Assignment And Get Instant Discount

Conclusion:
Through this whole case study, knowledge leverage of an international organization, Nestle, has been discussed here. Sharing of knowledge and organizing that are broad ideas in the organizations. There is a significant intention of the organizations to treat the Knowledge Audit as an important business tool. Many upgraded IT tools are being employed to audit information keeping all the relevant law and issues intact.