Subject Code & Title : NUR3503 Nursing Children And Young People
This is a Take Home Open Book Assessment, and although you have 24 hours to submit, this does not make it any easier than the traditional invigilated "End of Semester Exam". It is important to prepare in the same way as you would for the traditional end of semester exam. Please gather all resources (books, journal articles, credible websites etc) to support your critical thinking and application of theory to your practice in children and young people's settings. The unit learning outcomes and the lecture/tutorial topics can be a good demonstrate all the six learning outcomes of the unit. More marks will be allocated to critical reasoning and thinking through the application of nursing skills and knowledge.
NUR3503 Nursing Children And Young People Assignment – Australia.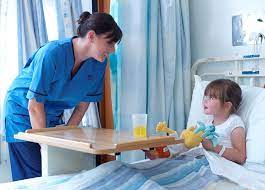 Question One :-
1.Vaccination is important for developing the immune system of children and young people. It reduces morbidity and mortality among children and young people. However, some parents are vaccine hesitant. Joe is a 9 months old un-immunised child brought to your general practice. Upon interviewing Joe's mother, Katie, you realised she was just following myths from her friends and family.
a. As a RN, discuss two ways of supporting a vaccine hesitant mother like Katie to vaccinate her child?
b. Discuss the family centred care approach you will use to engage with Katie
c. After a week, Katie returned to your facility to obtain an immunisation catch-up plan for Joe. She decided to get the first immunisation on that day. Using play, how will you give the immunisation through the intramuscular route without distressing Joe?
Question Two :-
Kylie, a 14-year-old girl was admitted to your ward following a suicidal attempt at the train station. On skin assessment, you identified old scars on her wrists and thighs which were later described as scars from deliberate self-harm(DSH).Through your interactions with Kylie,she disclosed that she has recently been bullied at school for her weight told she is "too bulky".She cried,"I have starved myself for a week,but no damned weight was lost!"
a. As a member of the team caring for Kylie, describe the HEADSS assessment you will undertake to assess Kylie's mental health
b. During your assessment, Kylie revealed that she intends to 'end it all'. She has active suicidal ideations, intent and plan. Discuss four ways Kylie can be kept safe in the ward
c. After spending 3 weeks in the ward, Kylie is now being prepared for discharge back to the community as her condition has improved drastically. Discuss two ways you can ensure Kylie remains safe in the community
NUR3503 Nursing Children And Young People Assignment – Australia.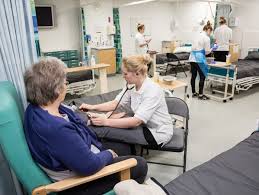 Question Three :-
3. Ronald, 7-year-old boy with moderate autism was admitted to your ward after repair of his inguinal hernia. He is currently on regular paracetamol and ibuprofen for post- op pain management. His prn medication also includes tramadol and oxycodone. Ronald's surgery is a day-surgery, so he is to be discharged by his RN if his post- operative outcomes are stable. He has passed urine and tolerated oral fluids and diet post-operatively. His observations have remained stable for the past two hours.
a. As his RN, you are about to undertake pain assessment before discharging him, discuss two pain assessment tools you can use in Ronald's case and provide rationale
b. Upon assessment, Ronald's pain score was 8/10 when mobilising and 4/10 at rest. Discuss one pharmacological and four non-pharmacological management of Ronald's pain
c. In addition to Ronald's routine analgesia (paracetamol and ibuprofen), he was prescribed 0.1 mg/kg of oxycodone (1ml=1mg) prn 3-4 hourly postoperatively to manage his pain. At 1500, Ronald became unsettled although his routine analgesia was given an hour ago.
i. What will be your next line of action and why?
ii. Calculate the amount of oxycodone in mg and mls required by Ronald per dose
Question Four :-
Rose is a 4-year-old girl, brought to your ward after experiencing 24 hours of severe vomiting and diarrhoea. Her dehydration was assessed as 7%. As Rose cannot tolerate oral fluids, she is to be prepared for intravenous fluid therapy (IVT). Rose appears lethargic and irritable. Her CEWT score was 3 based on her increased heart rate (1), respiratory rate (1) and temperature (1).
Using the scenario above, answer questions a-d
a. Calculate Rose's expected weight
b. Calculate her total fluid requirement
c. Discuss 2 ways to prepare Rose for IV cannula…
d. With a CEWT of 3, discuss your nursing care
NUR3503 Nursing Children And Young People Assignment – Australia.

Academic Integrity :-
This assessment and associated documentation are the intellectual property of ECU; under no circumstance must they be uploaded or shared with a third-party outside ECU. The consequence of breaches of academic integrity are very serious and severe consequences including annulment of grades and exclusion from the University may apply if this occurs.This assessment must be undertaken independently. It is an expectation that you do not discuss or share this assessment with anyone including classmates, friends and family. You can use resources such as books, journal articles and relevant credible websites but they must be referenced appropriately as per APA 7th edition. A minimum of 2 citations per question is expected (Peer reviewed journal article – 5 years old; Books = 10 years). Your honesty and integrity as a future registered nurse is encouraged.
ORDER This NUR3503 Nursing Children And Young People Assignment NOW And Get Instant Discount