Subject Code and Title :- AHS205: The Australian Healthcare System within a Global Context
Assessment :- Utilisation of the Australian Health Care System
Individual/Group :- Individual
Length :- 750 words or equivalent (+/‐ 10%)
Weighting :- 25%
Learning Outcomes :- This assessment addresses the Subject Learning Outcomes outlined at the bottom of this document.
AHS205 The Australian Healthcare System within A Global Context Assignment – Australia.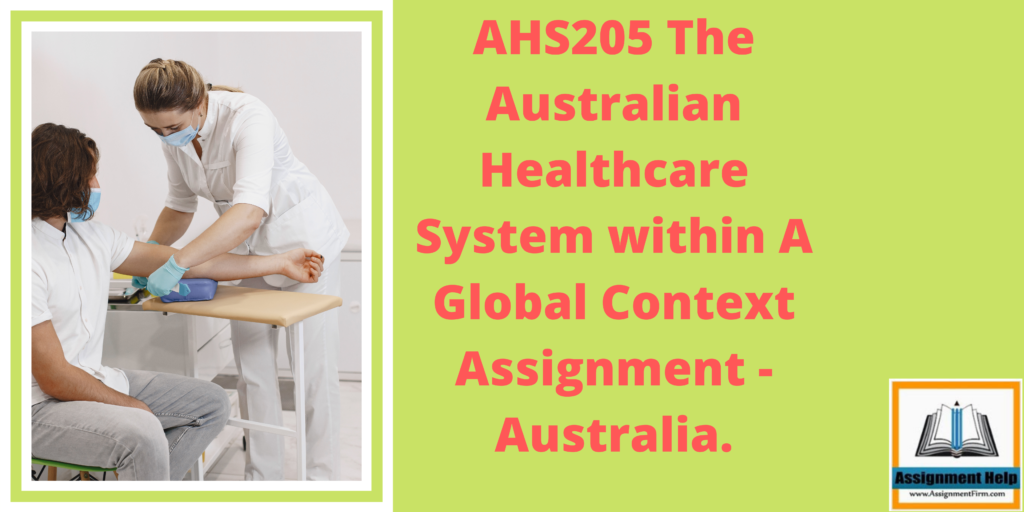 Context :-
The first part of The Australian Healthcare System within a Global Context investigates the structures and functions of the various components of the Australian Healthcare System including what services are available who provides them and who can access them.
The purpose of this assessment is to build upon the theoretical knowledge and understanding of the Australian healthcare system that you have gained in the first two modules of this subject and to apply that knowledge in a very practical manner. This increase in your ability to navigate the health system will help you support manage and advocate for patients and communities and it will provide a reference point when comparing Australia's healthcare system to others in future modules.
Instructions :-
This assessment task requires you to identify health services for a case study (patient) and to evaluate if these services will meet their needs.
To complete this assessment task, you should:
1.Choose one (1) of the case studies available in the assessment folder in Blackboard (Frank David Rhonda or Theo), to be their nurse as your patient is preparing for discharge from hospital.
2.Identify which case study you have chosen and list all patient's discharge needs.

Part A :
1.Identify three (3) to five (5) healthcare professionals and the services they provide available in Australia that specifically address the current healthcare needs for your chosen case study (patient). NOTE: At least one (1) service must be a nursing service.
2.Research a rural town. Name the town and the demographics of that town e.g. where it is located and the population. You will use this town to answer the questions in the table below.
3.Complete the information about the identified health professionals and services in the Health Services table (on page 3 below).
AHS205 The Australian Healthcare System within A Global Context Assignment – Australia.
• Services could include, but are not limited to the following
o General practitioner (GP)
o Specialist nurse position(s)
o Community nurse – generalist
o Medical specialist
o Specialist at a hospital outpatient clinic
o Allied and complementary healthcare
Physiotherapy occupational therapy dietitian podiatrist exercise physiologist psychologist counsellor nutritionist naturopath massage therapist dentist and others.
Part B :-
Provide a brief answer (approx. 250 words) to the following question:
• In your opinion, would the identified services adequately meet the healthcare needs for your case study?
• Are there any gaps in the service options? Briefly explain your answer.
ORDER This AHS205 The Australian Healthcare System within A Global Context Assignment NOW And Get Instant Discount