Subject Code :- ACCT6006
Unit Title :- Auditing Theory And Practice
Assessment Type :- Assignment Case Study
Individual/Group :- Group (max of three students)
Length :- 2,200 words (+/- 10%)
Weighting :- 25%
Learning Outcomes :-
a) Describe the nature of auditing and critically evaluate the benefits and limitations of financial statement audits.
b) Explain the current legal and ethical responsibilities of auditors including the application of the Accounting Professional and Ethical Standards.
c) Explain the fundamentals of audit planning, audit risk and materiality.
d) Demonstrate application of methodologies involved in the provision of audit services.
e) Describe the process of compiling an audit report and completing an audit engagement.
ACCT6006 Auditing Theory And Practice Assignment – Australia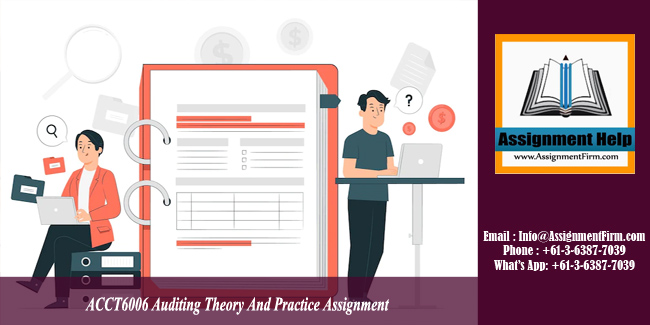 Task Summary :-
Students are required to work in the group with maximum of three members.The assessment is designed to assess the subject learning outcomes above including students ability to research audit related issues and apply their knowledge to real cases. Students are expected to develop a professional report addressing tasks within following areas:
i. Inherent risk identification.
ii. Audit procedures in response to inherent risks identified.
iii. Analytical review of the financial statements with the purpose of identifying areas of concern or comfort.
iv. Substantive audit procedures addressing the identified risks.
v. Audit report, its basis, and legal issues.
The report should include an Executive summary Introduction Body (covering all tasks) and Conclusion.
Context:
The case study requires students to work in a group and develop a professional report. A key aspect in your group's choice of format/layout should be to ensure you impart your key messages effectively (i.e., complete the requirements) and efficiently (i.e., it should be succinct and consider the word limit).
The report should be coherent, and consistency is expected throughout (e.g., formatting language style linkages between the parts).
Note groups who split up the requirements and work independently are likely to have more difficulty accomplishing this objective compared to groups who work on each of the parts collaboratively (i.e., as an audit team).
Submission Instructions:
Complete all tasks and submit your answers electronically using the link on Black Board under assessments overview and submission. Include the names and student ID numbers of the team members on the assignment cover sheet. Only one version of the assessment is to be submitted on behalf of the group. Please ensure that your submission is in compliance with all of Torrens Policies.
Instructions:
Review the Financial Year 2021 audited annual reports including financial statements presented to the
shareholders for the following organisations:
• Heali us limited
• Telstra Ltd
Assume that your audit team is responsible for planning the audits for both companies for the most recent financial year. Discuss your strategies addressing each of the tasks below:
1.Identify at least three inherent risks that you would have to consider for each company in the audit planning phase and justify your answer. Cite the relevant ASAs/ISAs to support your answer.
2.Which audit procedures and/or tasks would you have planned to carry out in response to the inherent risks identified above? Cite the relevant ASAs/ISAs to support your answer.
3.Carry out an analytical review on the financial statements of these companies in the planning phase and identify areas of concern high risk problem areas or comfort. Identify at least three areas for each company and justify your answer.
4.Which audit procedures and or tasks would you have planned to carry out in response to the high risks or problem areas identified above? Alternatively in relation to which area would you have minimised your evidence gathering procedure?
5.Discuss ethical and legal responsibilities liabilities of the auditors in case they would have given an in appropriate audit opinion. Discuss safeguards available to the auditors.
Effective communication Presentation quality and peer review
The report should be expertly presented persuasive logical communication, coherent and consistency is expected throughout (e.g., formatting language style and linkages between the parts).
Each group member is required to assess other members based on collaboration and contribution to wards the assessment tasks. Please include the peer review commentary at the end of your assessment after the conclusion section. Peer review marks must be allocated in line with the learning rubric placed at the end of the assessment brief.
ORDER This ACCT6006 Auditing Theory And Practice Assignment NOW And Get Instant Discount