Unit Code : BUSM4590
Unit Title : People And Organisations
Assignment Type : Report
Weighting: 30%
Word limit: 2,000 (+/– 10%)
BUSM4590 Assessment 2 People And Organisations – Australia.
Overview :
This assessment provides an opportunity for you to demonstrate your under standing of and capacity to apply the course concepts to real world cases. Increasingly workplaces are looking for employees who can add value by providing in sight ful under standings about ways in which the organisation can improve its performance.
Assessment criteria :
This assessment will measure your ability to:
• Rubric criteria one: Technical Issues – Expression is articulate, clear and grammatical (10%)
• Rubric criteria two: Understanding – Demonstrates effective use of and understanding of the course reading materials and the course topics (40%)
• Rubric criteria three: Critical Analysis – Answers all parts of the task and demonstrates development of the ability to apply concepts and ideas taken from research and practice to arrive at an insightful under standing of real world cases (50%)
Course learning outcomes
This assessment is relevant to the following course learning outcomes:
CLO1 Demonstrate an advanced and integrated understanding of the influence of employees and teams in the context of organizational performance
CLO2 Critically analyse and synthesise theoretical and practical examples of contemporary organisational behaviour issues and practices
CLO3 Critically analyse, synthesize, and apply theoretical knowledge and perspectives to develop practical solutions for managing people in organizations
CLO4 Plan communicate and advocate strategic solutions relevant to stakeholders involving key aspects of HRM such as negotiation conflict management, corporate social responsibility and cross-cultural team building.
Assessment details :
Critically analyse the following three (3) questions. You will select relevant theories and workplace examples (note: students are strongly encouraged to use their own workplace experiences and examples to provide a set of logical,well supported (by the academic literature) recommendations:
There are several strategies for job redesign such as job rotation job enlargement and job enrichment. Discuss effective application of these HR practices identifying the key benefits for employees and the organisation. Apply examples from your work experience in your response outlining methods that were used to succeed in application.
Viewing organisations through the political frame includes examining office politics and personal power. Discuss the need for personal power in the workplace and practices you would employ to enhance it citing the relevant literature and providing examples.
BUSM4590 Assessment 2 People And Organisations – Australia.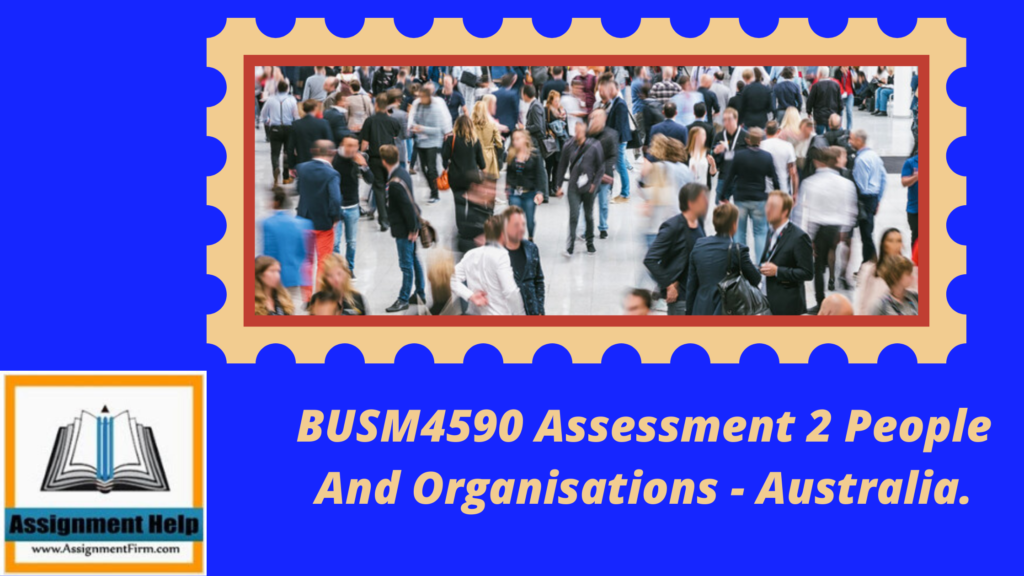 There are different types of stake holders according to Block (1991) each with a different strategy for managing the relationship. Describe a project where you have had to deal with a variety of stake holders including those who opposed your proposal, and those who were fence sitters and how you managed or should have managed these stakeholders in order to ensure a better chance for the success of your proposal.
Word limit
The word count excludes the cover sheet title page table of contents executive summary appendices and reference list.
Presentation requirements
This assessment requires use of the RMIT Harvard Referencing System. You must use core references from readings and your own references from research. These can include: academic (refereed journals) and non-academic sources (quality news media, trade/industry journals). A minimum of eight external references are required in addition to the core readings.
Criteria for marking
Your report will be marked according to evidence of:
Expression which is articulate, clear, and grammatical
Demonstrated effective use of and understanding of the course reading materials and the course topics Answers which demonstrate that you are developing the ability to apply concepts and ideas taken from research and practice to arrive at an insightful under standing of real world cases Extent to which the answers effectively address all aspects of the task
Note:
This assessment task is not asking you to simply summarise the reading materials Answers should provide an effective balance between exposition and explanation
ORDER This BUSM4590 Assessment 2 People And Organisations NOW And Get Instant Discount