The full name of the MUET is the Malaysian University English Test. Students who are enrolled in Malaysian pre-university courses must take a language test. Malaysian Examination Council (MEC) is in charge of organizing and supervising it. All students studying in Malaysia must take the MUET to apply for their selected program. It is divided into three sections: a test of subject knowledge, a general paper, and language proficiency. Writing assignments like essays, letters, and text summaries are used in the Language Proficiency part to evaluate a student's command of the English language. Through the use of an essay topic example and writing instructions, this blog article aims to give you advice on how to perform well on this part of the MUET.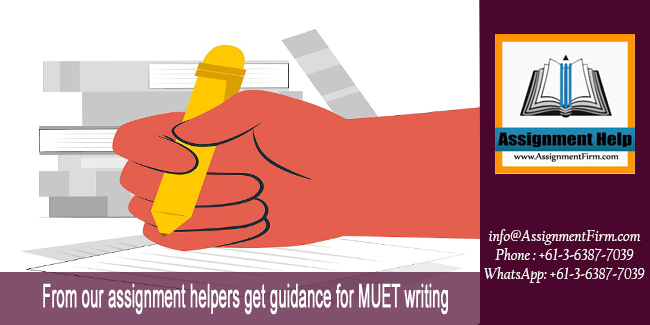 Let's first understand MUET
The Malaysian University English Test or MUET aims to assess candidates' level of English proficiency in preparation for higher education at Malaysian universities. The four language abilities to speak, listen, read, and write are examined on the MUET.
They are all skills that should be developed by everyone who wants to pursue an education in these fields, even though some people may be superior at one or two to others.
Students must transmit information from a non-linear source and compose an essay of at least 350 words on the provided subject for the difficult MUET writing test.
MUET essay importance
If you want to pursue a university degree at a nearby public university, you must take the MUET test.
Furthermore, take notice that this criterion is optional for individuals who decide to further their education beyond these universities and decide to do so by attending private or international colleges rather than (MUET tests are only necessary when applying for scholarships).
Also keep in mind that different colleges may have varying standards for English proficiency, so be careful to check these criteria before applying.
For students of Malaysia tips to write MUET essay
The ideal method to create a MUET essay is to have a brief thesis at the start and pay attention to how you move from one concept to the next.
Additionally, when composing an essay for MUET, it's critical to understand your reader. Having the expertise of the topic matter they are discussing is an important factor that students frequently ignore.
Transferring data
Use proper grammar.
Examine the graphical data with great care.
Express your thoughts.
Critical thinking
Critical thinking is a requirement if you want to get a Band 5 or better.
It's time for some serious rigor and reflection if you want to get a Band 5 or higher on the test.
To assist in critical thinking, use the following resources: Effects on the short, medium, and long terms
For instance, alcohol
Short-term: foul breath and yellow teeth
Mid-term: financial waste
Long-term: Medical issues including cancer
Individuals, community, and government
Instance: Alcoholic
Individual: Make plans and get ready for change.
Society: Must not promote alcohol consumption.
Government: Fundraisers must stop
The Format of MUET essay writing
Due to the requirement to write in the Academic Writing Format, MUET is a difficult exam. Many students can find it challenging to grasp and use this structure in their answers, which could cause them to perform poorly on that section of the MUET.
This issue may arise from a lack of understanding of the differences between academic writing and other types, like creative or personal writing, which are more typical formats for essay questions outside of the MUET testing phase.
1. Intro part of the essay
In this section, you can introduce you're subject to the reader.
Use eye-catching phrases, queries, clear descriptions, etc.
a thesis statement is necessarily a sentence that includes the key concepts
Never use the phrase "can be defined as"; instead, say things like "In my view, in my belief, etc."
Considering that this is an essay and not a research project, don't ever say "research or study" use phrases like "in my view" or "on the basics of my readings."
2. The body part of the essay
Three paragraphs are required in the body section.
Describe the basic concept.
Frequently used as the opening phrase for each paragraph
Adding arguments and details
Additionally, samples, clarifications, justifications, and specifications may be provided.
Must include evidence to back up the major concept presented in this body or body paragraph.
Use transitional, linking, and linking words.
The conclusion part of the essay
Bring the conclusion to what you have already talked about.
Summarize your main points.
There must be 4 sentences at the end.
You can provide suggestions, express your ideas, or restate your opinion.
Use the following words to express your point: to sum up, as a conclusion, finally, eventually, and to encapsulate.
Read more: Writing the perfect essay using PEEL paragraph.
MUET essay types
While a descriptive essay usually concentrates on the subject of the description.
In general, an essay with a narrative heading (or "story") emphasizes how something has been accomplished or how it felt to accomplish it.
A header that includes treatment or analysis of current data, facts, procedures, etc. is known as an informative-explanatory (inform + explain) header.
You must choose a perspective in an argumentative essay question, and then use evidence to persuade or convince the reader of your side of the argument. These can take the shape of stories, information, statistics, etc.
Expository essays are distinct from other kinds of essays in that they don't need any argument; rather, they just look for evidence confirming or refuting the information that has been provided to you or the question you have been given.
Although MUET essays are frequently of the expository variety, they may also be persuasive or argumentative.
MUET essay writing topics
The following themes are all appropriate for MUET essays since they are all general knowledge issues that every university or college student should be able to answer.
What motivates someone to kill themselves for personal gain? Try to explain
Would you agree that friendship is the most valuable thing in life?
Which type of cuisine, whether it be handmade or eaten on the street, is best? Clarify your choice in 350 words.
Do you agree that all children should receive a free education?
Social media's effects on humans
Some people choose to live in tiny communities, while others choose to do so for various reasons. Which do you like best?
MUET evaluation method
– Essay Task 1 for the MUET:
Writing a Report (40 Marks)
You have 40 minutes to complete the assignment.
Examine and evaluate the data.
Give a report-style description of the data or procedure.
150 to 200 words are sufficient.
– Essay Task 2 for the MUET:
Extended Writing (60 Marks)
The essay can't be shorter than 350 words.
Allotted 50 minutes to accomplish the task
An analytical, descriptive, persuasive, or argumentative essay is one possible format for your submission.
MUET grading system
The mark for each paper will be displayed together with the total rating when students receive their MUET results. Band 1 signifies the student will have to take two additional English classes over the break; Band 3 or 4 means one additional course. If you fall into bands 5 or 6, that's great! Over the summer break, you are in no way in need of any more instruction.
– Band 6 for MUET Essay Writing: Excellent Good User (Aggregated Score: 260-300)
The speaker's knowledge of the language is outstanding, and their fluency is unmatched. When necessary, they use precise language that expresses nuance and precision while being incredibly expressive in what they say. The individual's comprehension of context shouldn't be questioned because it seems like they communicate perfectly when speaking or writing in different languages.
– Band 5 for MUET Essay Writing: (Good User) (Aggregated Score: 220-259)
The speaker's fluency is unmatched, and they exhibit a firm grasp of the language. When it counts, they use precise language that is very expressive and accurate in all of their communication. One shouldn't doubt the person's comprehension of context because it seems like they communicate perfectly while speaking or writing in different languages.
For MUET Essay & Test Writing Hire Our Professionals
A team of writers with master's or doctoral degrees in the business and marketing fields works for Assignment writer Malaysia. For a reasonable price, these qualified homework writers can help you with case study writing for your marketing projects and with your thesis.
Freelance assignment writers can provide you with the best assistance if you're looking for the best marketing assignment help. Our Malaysian essay writers are knowledgeable about academic writing standards and can offer research subjects that satisfy the demands of any student.
Having trouble comprehending your assignment? Hire experts from Assignment Help Malaysia to provide the assistance you require. Work with us to accomplish the best assignments on time while maintaining your comprehension of everything.